Byron Georgia Real Estate Report - July 2018 Edition
As a Top real estate agent in Byron GA I am doing everything in my power to help consumers find properties that fit their needs in this market. With many buyers waiting for a specific type of property, as soon as a home hits the market that meets their needs, I am getting them in to preview the property. Any delay could cost buyers an opportunity to make an offer. If you are unsure about entering the Byron GA real estate market, this review may help you make up your mind!
So, what happened last month in the Byron real estate market? This report outlines the current status and details the short-term outlook for this community as well. Stay tuned for all the market analysis and details.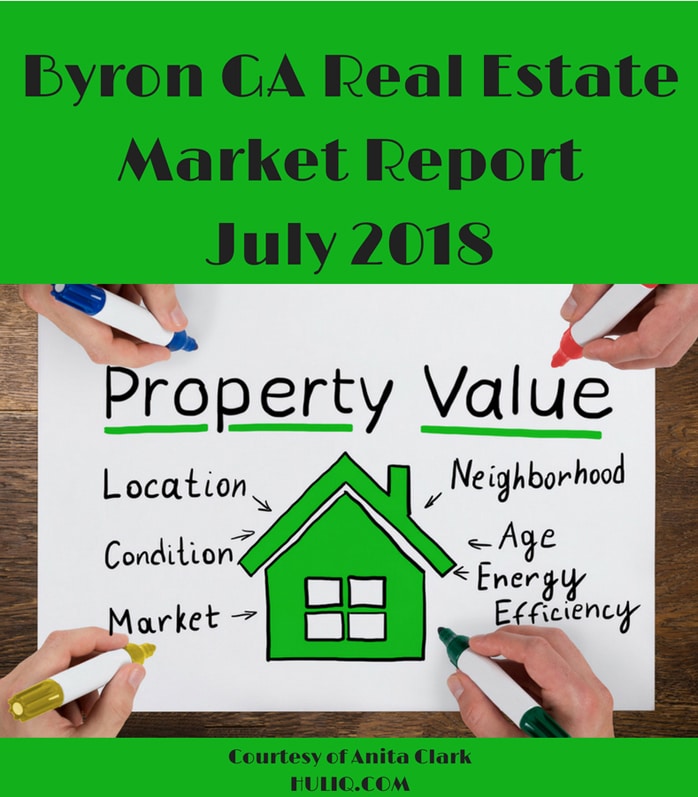 Active Byron GA Homes For Sale
Currently, there are just 53 homes for sale in Byron GA. That is 5 more homes available than the previous month. The highest priced listing in this market is currently available at $689K+ and the lowest is only $94K+. Square footage of available properties ranges from 1,3150 feet up to 7,317. Also, there are homes available in numerous price points to meet the needs of all real estate buyers.
Buyers and investors who are looking for a fixer-upper have only 1 distressed house to pick from this month. Fortunately for sellers, there has not been an increase in foreclosure and/or short sale homes in the past quarter. While not a huge issue at the moment, they can affect appraisals and future sales prices in the affected communities.
The highest priced home for sale in Byron is a home located at 985 Kersey Way. Available for $689K+, this 7.3K+ square foot home has 8 bedrooms, 5 bathrooms, and a host of amenities worth checking out.
Sale Pending Byron Single Family Homes
Currently, there are only 11 Byron homes pending sale. This represents a 14 property decrease from the previous month. One of these pending sales is a distressed home. It is great to see increased pending sales but in order for that trend to continue, fresh inventory is needed. Time will tell how this market moves in the coming months.
With conditions squarely in their favor, smart sellers are ensuring their home is ready for buyer views, updated as needed, and priced according to the current market conditions. While they have the upper hand in this sellers market (1+ month of available inventory), properties that are not in good shape will sit on this market.
Byron GA Single Family Homes Sold
There was a total of 27 home sales in Byron GA during last month. This represents the fifth highest number of monthly sales in the past year (the annual average this past year is 24 sales). The average sale price for these homes that closed last month was $161K+ and they took an average of 31 days to sell! The 12-month average for both of these categories is $158K+ and 36 days. Clearly, consumers found properties in the lower price points to their liking this past month.
The average days on the market was solid this past month and is a reminder to sellers that when they market price their home they can be confidant buyers will take interest. The sales price to list price ratio last month was 99.61%, improving on the 12-month average of 98.43%. When their homes are market priced, sellers are reaping the rewards.
The most expensive home sale in Byron real estate last month sold for $234K+. The lowest priced sale was $72K. In addition, 1 of the closings this past month was a distressed home, which may have a slight impact on appraisal values in the affected neighborhood for the remainder of the year.
What Can Byron GA Residents Expect Regarding Real Estate In The Coming Months?
You can expect plenty of competition when you are ready to make an offer on a Byron GA home. This could mean a bidding war if you are not ready to write an offer as soon as you decide the property is the home you want. Just remember, any delay could cost you the home as plenty of other buyers are also out looking!
The amount of inventory and low pending sales will be worth monitoring for the next few months to determine if this is a trend or just an anomaly. Time will tell if a host of fresh inventory hits the market and if buyers continue to find homes to their liking in the Byron real estate market.
A Byron Real Estate Agent You Can Trust
This Byron GA real estate market report was provided by Anita Clark. Anita is a licensed residential real estate agent in Byron GA. She works at Coldwell Banker SSK, Realtors.
You can find Anita on numerous social media networks or via her Byron GA Real Estate Blog. She is an active online real estate marketer who loves helping residential real estate consumers in Houston County GA.
More Houston County Real Estate Market Reports
Check out the latest details and find the right market for your needs. Happy middle GA house hunting!
---
**The information provided in this real estate market analysis was generated via the Central Georgia Multiple Listing Service (CGMLS) at the time/date this market report was published. All information is deemed accurate, but not guaranteed.**