How AI is Changing Real Estate Markets
The housing market in the US is worth around $33 trillion. It sees a rise of $1.9 trillion every year. You can say it's a pretty big business. The rules of the real estate market were set a long time ago. There's no great philosophy in selling a property to people who want to buy a home but it makes sense to keep up with modern technology to ensure the home gets seen by the most consumers in the shortest amount of time.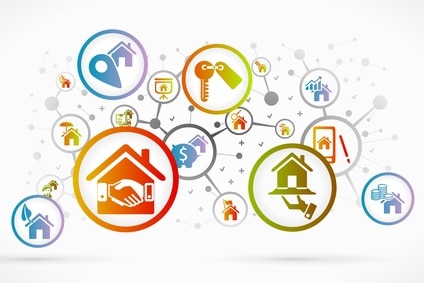 What does this mean for the real estate market?
Real estate marketing is something that is evolving. Today, with internet technologies, search engine ads, social media ads, and overall internet use, the marketing games have turned into something really serious for real estate agents.
One of the industries where AI is most likely going to make a considerable impact is marketing. Great real estate companies are already using AI-driven bots to target internet users who are in the search for the next best home.
Even though stats suggest that millions of people are going to lose their jobs in the future because of the impact of AI, at the same time, it will affect the industry tremendously. The advantages of AI-driven software that attracts customers is obvious. This is going to make people get much easier access to properties that are most suitable for their needs.
All artificial intelligence statistics speak about how influential this industry is at the moment. More importantly, the influence on every segment of the industry, in general, is only going to get bigger. For example, it is said that by the year 2030, 38% of the jobs in the US will be taken over by AI.
How does Artificial Intelligence help?
Lots of companies are already using AI bots installed on social media and their web pages. They already see the benefits of it. According to Statista, 84% of the businesses that used AI said that it gave them an advantage over the competition.
But, how can marketers in the real estate world benefit from it? Simple, by installing AI software inside their web pages and profiles on social networks. The stats show that around 250 million Americans use at least one social network, and most of them are connected to Facebook - about 220 million.
This is why most of the bots are being used there. They are scanning the behavior of users on social networks and see what their interests are. The software is basically learning what people like and need in their life. Based on this, they show ads with content that is most relevant to them.
For example, the software won't show real estate ads to people who never clicked, wrote, or liked anything connected with housing. On the other hand, those users who often check sites, like pages related to it, will surely receive ads for some of the most relevant deals for them.
Research by the bots isn't stopping there. It goes much deeper than just seeing such information and targeting ads there. All information is important. Location, personal interests, everything can be used for creating the best match.
The house improvement that makes properties more valuable
Artificial Intelligence is becoming an essential part of home security systems. Today's software is only going to get more sophisticated even though it is a state of the art technology right now. Keeping your home safe is smart and provides peace of mind.
Companies install home systems that are connected to one central computer doing everything around the house, from controlling the lights to surveillance around it by scanning everyone who is getting closer.
Knowing that AI is capable of learning, once a face recognized and granted access by the homeowners, it is then safe for them every time they get back. However, cameras can spot weapons or dangerous behavior. So if the same person comes back with a gun, the AI will immediately alarm the police.
The same goes for the activities inside the house. The best software at the moment is capable of understanding what is happening inside the living space. Every potential danger and risk is going to be noted, and an immediate alarm is going to be sent to the relevant people and services.
All this makes some houses super-properties that everyone would like to live in. At the same time, it's an opportunity for real estate agents to see a lot more work, which means a lot more profits.
The dangers of AI for the housing industry
Nothing compares to writing notes on paper. Keeping the records in your briefcase is the safest way to make sure no one gets to your analysis and data. Implementing AI in real estate sectors means it will have access to all information.
This creates an opportunity for hackers and cybercriminals to intrude and steal essential business data. Without proper security, it is almost sure that hackers will do some damage.
Another vital part of the real estate industry that AI can't replace is the decision making and the actual meeting with clients. In the near future, that kind of sophisticated humanoid robot won't be constructed, so all these tasks will remain in the hands of agents.
However, their job will be much easier because of the help of AI. The success of selling is deeply connected with the ability of agents to present the property in a better light. Having tons of information about the property and the clients opens up tons of opportunities to make customers feel special and be satisfied by the work of the agent.
Real estate by the numbers
The properties with AI-driven software that controls the home system see a much higher value and are sold for a lot more. The existing houses are sold for $270.400. Having these numbers in mind, an investment in AI software that will raise the security and the overall experience can make this price jump way up.
Around 5.5 million houses are sold every year in the US. The real estate market alone is worth around $16 trillion. It's an important part of the entire American industry.
At the moment, more than half a million people work as real estate agents and salespersons. AI will profoundly influence all of them.
Final Real Estate AI Information
The real estate market is seeing constant growth except for the years of the great mortgage crisis from 2007 to 2010. With the help of Artificial Intelligence, these numbers are expected to reach an all-time high.
People who are a part of the business will need to adjust to the new rules. Some will have to retrain and look for a new job, but many others will benefit from the endless opportunities that AI offers.